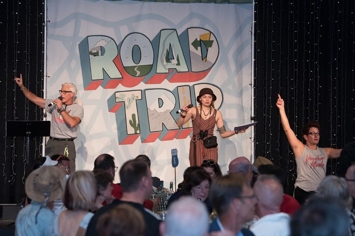 Pacific Cascade Legal was pleased and proud to sponsor a table at Oregon Children's Theater's annual fundraising dinner, auction and dance. This year's soiree, Road Trip: Going Places, was held on August 24th at The Loft at 8th Avenue and we were delighted to be able to go along for the ride!
We were also honored to help, along with those who joined us at the table (two of which have a trip to Puerto Vallarta in their future!) Oregon Children's Theater to surpass their fundraising goal, and to, in their words, "fill the tank" by raising $244,365 in support of expanded access to the arts for children and families. As the region's largest nonprofit performing arts company for young audiences, OCT reaches more than 124,000 children, parents, and educators in Oregon and southwest Washington each season. Their mission is to create exceptional theater experiences that transform lives. We at Pacific Cascade Legal share their belief that theater and storytelling can educate, empower, inspire, and entertain children and families so many remarkable ways.
Oregon Children's Theater is also working with Pacific Cascade Legal, as one of our professional referral partners, to help introduce our clients, current and past, to all of the wonderful programs, classes and shows that they provide to the public, and that you may wish to explore. If you have any questions or want to learn more about their offerings, please feel to reach out to Steve Altishin, our director of client partnerships. You can email him at steve@landerholmfamilylaw.com or call our office at 503.227.0200. he is excited to talk about this or any referral needs or questions that you may have.