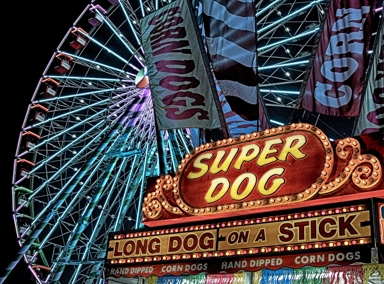 With the start of September, states around the country are seeing the goings of summer, but the comings of fall festivities—apple cider, pumpkin patches, and of course, state fairs. If you're planning on attending your state fair this year, it's always wise to be aware of certain safety tips, especially for your children, before running full steam ahead into the whimsical place of crowds, rides, rodeos, and fried treats galore.
Take Pictures Beforehand
Before you enter the fair, take a photo of every child in your group so that you have photo reminders of what everyone is wearing. This way, should anybody get separated from the group, you'll have a reminder of which outfits to look for in the crowd. Photo documentation like this can also help fair security identify any missing children.
Have an Assigned Meeting Spot
When you enter the fairgrounds, establish a meeting place for the group should anybody get separated. Making the meeting spot an easily identified location near the entrance of the fair will make it less complicated for young children who aren't sure where they are, or who need to ask for assistance. This tactic can be utilized for adults as well. Fairs are loud, crowded, and are often attended for long periods of time. If someone's phone dies and you're no longer able to locate your group members, knowing where to meet before heading out can prevent you from missing your ride, especially if a meeting time is established beforehand.
Practice Safety on Rides
Fair rides can be a blast, and are a selling point for many kids and young adults. Every state has different inspection laws when it comes to carnival and fair rides, so if you're feeling concern about any particular ride, don't be shy to ask the attendant or supervisor if the ride in question has passed inspection. In addition to this, if you notice that the attendant doesn't seem to be paying attention or practicing appropriate safety precautions with ride-goers, make a supervisor aware so that the problem can be addressed.
If rides in the state fair have height, weight, or health restrictions, it's important that you heed those warnings and don't try to get around rules set in place. They're there for a reason—your safety. Make sure your kids follow proper dress procedure, and go over different scenarios so your children aren't stuck in a precarious situation. Examples include what to do if they're feeling afraid or unsafe on a ride, or if their friends are pressuring them to go on a ride that they're not comfortable with. Ultimately, as with any roller coaster or amusement park ride, there are inherent risks involved. Do your research on what those risks may entail, what laws and permits your state requires to protect people, and if those rides are appropriate for your current age or health.
The state fair is a special occasion for many families. They have the power to evoke memories of brisk fall evenings, elephant ears and scones, laughter, family traditions and first loves. By staying mindful of safety precautions, you can help ensure that the state fair remains a place of games, lights and wonderment for your entire family.