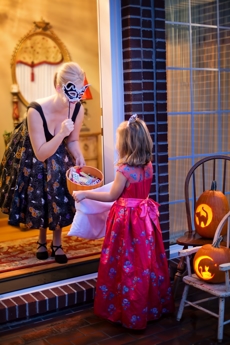 With Halloween around the corner, you may be wondering how to throw an unforgettable kid-friendly Halloween party—one that will create lasting memories and lots of laughter and squeals of frightful delight for your children and their friends. We've listed five ideas to make it an event that won't soon be forgotten:
Photo Booth
Photo booths have become an increasingly popular party idea, and can be rented for a fair price. Kids will have a blast being able to express themselves via photos with their friends. Between posing with props to silly faces and everything in between, photo booths are a great way to document not only the variety of creative costumes that everyone showed up in, but the memories and laughter as well.
Hold a Contest
There are so many different types of contests you can hold for a Halloween party, whether it be a costume contest (you can have multiple prizes for scariest, funniest, or most creative costumes, to name a few), a pumpkin carving or decorating contest (depending on the age of the children), a mummy wrapping contest (get ready to blow through loads of toilet paper but worth it!), or even a Halloween relay race.
Engage Their Senses
Kids love to have all of their senses engaged, and Halloween is the perfect way to do so in a really fun and unique way. You can set up bowls along a table with covers over them, and the kids get to stick a hand in and try and figure out what they're feeling. In Halloween nature, you can of course make this delightfully spooky—think cold spaghetti for worms, peeled grapes for eyeballs, or canned corn for teeth. These events are sure to make a commotion and be a party favorite for the very bravest of children.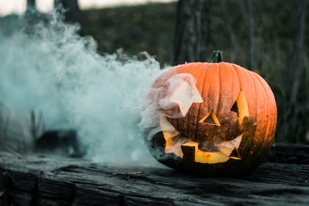 Another fun idea to engage their senses is to utilize dry ice within a pumpkin. Not sure where we're going with this? If you fill a jack-o-lantern with dried ice and then pour water over it, it will create the spooky illusion of fog coming out of the eyes and nose of your pumpkin that is sure to dazzle and wow kids who love a little magic.
Have a Special Halloween Guest
If you really want to add an exciting twist to the party, have a friend dress up as an exciting character (perhaps Dracula, Igor or a character from Scooby Doo who needs help with a mystery) and have them interact with the kids. Plan an event that the character can lead for the kids, such as a scavenger hunt or marshmallow toss. Having a special guest will keep the kids involved and excited to participate.
Create and Craft
Halloween is a time where crafting can really come to life and be a ton of fun for kids. You can decorate pumpkins, create lanterns, marshmallow ghosts, egg carton bats or even cookie decorating. Set up a craft table at the party with all of the supplies needed and let the kids run away with their imaginations! Have sample crafts set up to give them ideas of how to decorate, and an adult helper at the table to help with gluing and cutting. If you need some inspiration, Pinterest is the perfect place to gather ideas for Halloween crafts that the kids are sure to love.
If you're hoping to throw a kids Halloween party this year that will not only keep the children entertained, but laughing and utilizing their imagination, we hope this list has helped formulate some ideas. We hope it's one for the books!