Regardless of how you celebrate Halloween, whether you're a die-hard trick-or-treater or pumpkin carving extraordinaire, there's just something about nestling down on the couch with your family, popcorn and candy corn in hand, and watching a classic Halloween film to really get into the spooky spirit. If you have small children, the wide selection of Halloween films to pick from can be a little risky if you aren't careful or aware—"Children of the Corn? By the name of it, sounds promising!" Uh-oh. In order to avoid any confusion, Pacific Cascade Legal has compiled a list of 6 classic kid-friendly films that are sure to get you in the Halloween mood.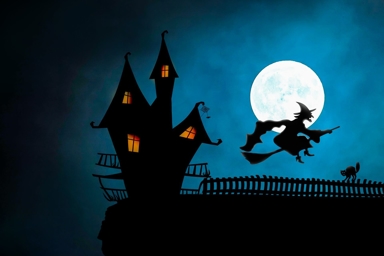 Hocus Pocus- Rated PG
Oh, Hocus Pocus. Nothing quite gets you in the Autumn AND Halloween spirit like this cult classic. Based out of Salem, Massachusetts, this film follows the creepy resurrection of three witches who are on a mission to suck out the souls of all of the town's children--yikes. This movie just screams Halloween with its talking black cats, flying brooms, spell books, and potion pots.
Nightmare Before Christmas- Rated PG
Per pretty much all Tim Burton films, Nightmare Before Christmas is simultaneously weird and wonderful, and has assuredly become a Halloween classic. Many parents watching this movie with their kids probably have their own memories of seeing this film as a child, making it a generational favorite. This stop-motion animated film has a way of tugging on your heart strings, while concurrently making you grimace and squirm as you're introduced to delightfully creepy characters (Boogie Man, anyone?!)
Casper- Rated PG
There are quite a few Casper renditions out there, but the Casper we're referring to is the classic film we all grew up knowing and loving—think Christina Ricci, Bill Pullman, and some fabulous 90's computer-animated ghosts. The great thing about this film is that Casper really is quite the friendly and loveable friend, bound to dissolve some of the angst your kids may be feeling about watching ghost films. Of course, that doesn't mean there aren't any creepy ghosts in this film—Casper's Uncles are quite the scary bunch… you know, the type that sport sharp teeth and red eyes when they get angry. Eek!
The Addams Family- Rated PG-13
There's no denying the fact that the Addams Family is the quintessential spooky family. Total Halloween goals. They're your normal, closely-knit pack, with a few dark quirks and macabre interests, and of course a Frankenstein-like butler, and a lone forearm that crawls around the house named 'Thing'…you know, the norm. You're bound to get a lot of good laughs from the movie AND show, and will find yourself falling in love with this brilliantly morbid clan.
Beetlejuice- Rated PG
The premise of Beetlejuice is that a couple dies in a car accident and are stuck haunting their country residence, much to their bewilderment. In an effort to scare away a new couple living in their home, they hire the help of a miscreant named Betelguese—a menacing, and unsavory character who you can't help but abhor and love at the same time. Another Tim Burton film, you can count on the fact that it's going to be quirky and odd, but excellently told. It's a bit crude, with some morbid jokes and scenes, so maybe hold off on watching this with your younger children.
Ghost Busters- Rated PG
Looking for a film that combines spooky, funny, and can appeal to both kids and adults? Look no further than Ghost Busters! An 80's film, this is another one of those movies that will bring back a sense of nostalgia for a lot of parents who are introducing their kids to this Blockbuster phenomenon. Rated PG, this is a light-hearted film that combines under-stated comedy and adventure with some creepy monsters—the perfect combination!
No matter your Halloween preferences, watching a kid-friendly film is always a fun and safe way to get in the holiday spirit. Pacific Cascade Legal understands the importance of spending time together as a family, and encourages every parent who will have their kids on Halloween to take advantage of the holiday fun and create memories. Let the movie-marathons begin!