Salem Child Custody Attorneys
Advocating for Your Parental Rights in Salem, OR
When a couple decides to end their marriage, and one or more minor children are involved, parental rights will often become a point of contention during the divorce process. Oregon's laws regarding child custody recognize how disruptive divorce can be on a child's well-being. That is why these matters revolve around a central point: the best interests of the child.
At Pacific Cascade Legal, our Salem child custody attorneys have the experience and sophisticated understanding of Oregon law to make sure your parental rights are given due recognition and respect. Our skilled attorneys can guide you through every facet of the legal process to ensure decisions and negotiations reflect your priorities regarding the care and well-being of your child or children.
How Is Child Custody Determined in Oregon?
When it comes to determining custody of a minor child, the court must evaluate the following factors as they relate to the child's best interests:
Emotional ties between the child and other relatives
The parties' respective interests regarding the child
The desirability of continuing an existing relationship
History of abuse between the child's parents
The child's preference as to who should be their primary caregiver
The willingness of each parent to maintain a relationship between their child and the other parent
To arrange a consultation with our Salem child custody lawyers, contact Pacific Cascade Legal today. Divorce is hard, but we can help make it easier.
At What Age in Oregon Can a Child Decide Which Parent to Live With?
Under Oregon law, a child can only choose which parent they'd like to live with once they turn 18 or become emancipated. When minor children are caught up in a divorce, either the parents or the court will determine the future shape of the parent-child relationship–whether that involves both parents sharing joint custody or one parent having primary custody of the child. At Pacific Cascade Legal, our Salem child custody lawyer is here to help you work toward an agreement that's in the best interest of your family.
Our Salem child custody attorney can explain and discuss the following issues in your case:
Legal custody – making educational, financial, and medical decisions for the child
Parenting time – determining with which parent a child primary resides
How custody determinations affect child support obligations and rights
How to maximize the benefits of parenting plans and parenting time schedules
The efficacy and appropriateness of sharing joint custody with the other parent
Parenting Time & Visitation Schedules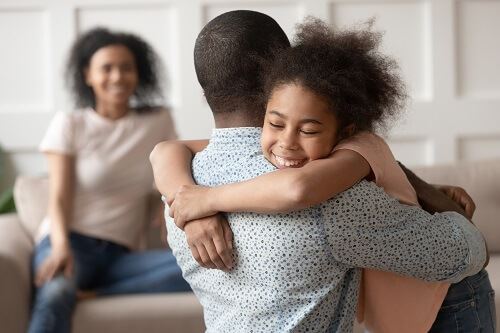 Like legal custody determinations, parents have the opportunity to take full control of their parenting time and visitation plan when filing for divorce. However, when parents cannot reach a mutual understanding about this plan, the court will intervene and determine the basics of a parenting time and visitation plan based on the child's best interests.
That is why it is important for parents to take advantage of the opportunity to cooperate and autonomously craft a parenting plan with the latitude to address each party's expectations and the flexibility to accommodate future possibilities. Remember, once a court makes a decision on the issue, it becomes a legally enforceable court order.
At Pacific Cascade Legal, our child custody attorneys in Salem are dedicated to helping you work toward a mutual settlement with your former spouse regarding the details of your parenting plan. We appreciate the significance of a well-crafted parenting plan, and we have the experience and understanding of Oregon family law to provide you with valuable legal insight.
How Do I Change My Custody Agreement in Oregon?
After a child custody agreement is established in court, circumstances may change, which is why parents have the right to petition the court for a modification when a child custody agreement is no longer viable. If both parents agree to change the parenting plan, the legal process is relatively easy and quick. If the matter is disputed, it will need to be settled in court.
In order to modify custody or parenting time in Oregon, the court must determine if the change is in the child's best interests. This includes the need for a stable home environment, the health of each parent, opportunity for interaction with other family members, education, religious or cultural considerations, and even the wishes of the child (if he/she is old enough).
Factors that may justify a custody modification include:
Relocation by a custodial parent
Improvement in the noncustodial parent's situation
Failure of joint custody
Custodial parent's gross misconduct
Custodial parent's neglect of parenting
The custodial parent cannot provide a stable home environment
Custodial parent's alienation of the child from the noncustodial parent
If you are interested in modifying your child custody agreement or parenting time agreement in Salem, the custody modification lawyers at Pacific Cascade Legal can help you work toward a favorable resolution. We can sit down with you to evaluate your case, listen to your concerns, and build an effective and personalized legal strategy which fulfills your needs.
Discuss Your Options With the Salem Child Custody Lawyer at Pacific Cascade Legal
If you are going through a divorce, it can be challenging to juggle transitioning into single life, accommodating the court's schedule for divorce proceedings, and preparing for court appearances and legal matters – all at the same time. Thankfully, you don't have to tackle these issues alone. At Pacific Cascade Legal, our
Salem child custody lawyers are here to make sure you and your child's legal interests are well served. We pride ourselves on delivering personalized legal counsel and representation in every case.
Are you ready to arrange an initial consultation with one of our experienced child custody lawyers in Salem, OR? Contact Pacific Cascade Legal today at (503) 427-9033.
A Reputation for Skilled, Dedicated Advocacy
Former Clients Share Their Experiences With Our Firm
"Supportive and professional team"

- Maria Lucia Gomez-Greenberg

"Helpful and professional team"

- Former Client

"Honest and Professional"

- Former Client