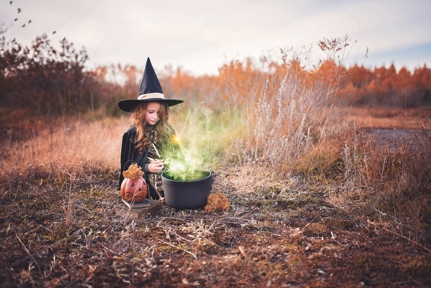 You know it, we know it, the world knows it: Halloween will likely look different this year for many families. Despite some pretty uncanny Halloween conditions (i.e. Halloween falling on a Saturday and featuring a full moon, which only happens every 18-19 years), this year's pandemic, and the subsequent need to stay safe and follow health guidelines, has trumped even the most ideal Halloween circumstances. That being said, while this year may look different, Halloween is not cancelled! There are still plenty of creative options to celebrate the holiday, and ensure that your kids have a memorable holiday.
To be clear, the CDC has not restricted the traditional Halloween activities that we all know and love, such as trick-or-treating, going to a pumpkin patch, or visiting a haunted maze. Rather, they've laid out guidelines on how to modify these activities and be mindful of health and safety measures while participating. Trick or Treating? Consider wearing a costume that naturally implements a cloth mask, practice one-way retrieval of candies, and limit the number of people you go out with, so that you can practice social distancing. Handing out candy? Consider packaging the candy in bags, lay them out in a location that eliminates the need for hand-to-hand transactions (such as at the end of the walkway), and wash your hands before preparing anything candy or food related. Looking for a good old-fashioned scare? You can still attend a haunted maze or forest, so long as it's outdoors, one-way systems are set up, and everyone wears a mask.
While these activities are still allowed when followed by certain safety precautions, they are still considered moderate-risk activities. If you're hoping to celebrate Halloween in a low-risk fashion, we've compiled a list of safe and fun ideas for you and your kids to enjoy at home:
Get Creative with Face Painting
To set the mood for your at-home Halloween evening, start the night with some family- fun face-painting. Whether you do it for your kids, or allow them to paint their own faces to express their creativity, face painting at home is a unique way to get both kids and parents involved. Buy an assortment of paint colors, and let your imaginations go wild!
Hold a Virtual Pumpkin Carving Contest
It's a classic Halloween activity for a reason! Host a virtual pumpkin carving contest out of your own home with your entire family. Everyone can be responsible for carving their own creative designs, and even decorating them further with paint, LED lights or cobwebs. Once finished, hold a virtual contest with your kid's friends or other family members, with a few designated judges. Agree on a prize for the winner to raise the stakes and make it a real competition!
Bake Spooky Treats
With a quick search on Pinterest, you'll find endless amounts of ideas for creative Halloween-inspired foods and sweet treats you and the kids can make at home. From eyeball-decorated cake pops to monster-inspired hamburgers, the options really are endless. Throw on some creepy Halloween music in the background to set the mood, and get to cooking or baking!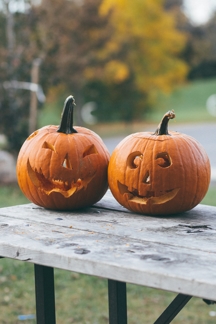 Have a Flashlight-Only Treasure Hunt
If you're hoping to create a bit of spooky magic in your kids life, consider drafting up a treasure hunt in your own home and backyard. Draw a map leading to a treasure of some sort with riddles along the way, and set the rules that only flashlights can be used to up the ante. If this is a hit, you might also consider playing indoor games in the dark, such as "Murder in the Dark" (essentially a hide and seek game that is played with all the lights turned off).
Host a Drive-In Halloween Movie Night
If you're a Halloween movie buff who owns a projector and speakers, you might consider hosting a drive-in movie night at your house for your kids and a few family friends to attend. Doing so allows for everyone to stay socially distanced in their own cars, while enjoying a Halloween movie outdoors in the dark. The opportunities to add in some extra scare-factors while everyone is watching the movie within their cars are endless. Have everyone bring their own snacks, blankets and pillows and enjoy the movie in cozy comfort!
Lay Under the Full Moon & Listen to a Scary Story
Mother Nature has set up the scene perfectly this year by providing the quintessential full moon that is often portrayed as a catalyst for Halloween magic to commence. Don't let it go to waste! Grab all the blankets and pillows, or even a tent, and set up a comfortable space outside in the backyard, turn on a scary Halloween story while you lay under the full moon, and prepare to be spooked!
Don't let the latest COVID-19 restrictions keep you and your family from enjoying Halloween this year. If you decide to opt out of the classic Halloween activities, there are still plenty of options for making it a memorable, spine-chilling evening for the entire family.