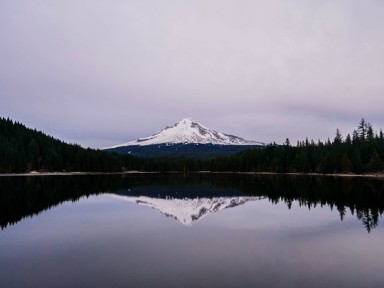 With so many societal changes and social distancing precautions creating an air of uncertainty regarding our usual summer activities, getting outdoors and spending time in nature is perhaps more appealing and important than ever before. If you have children who are eagerly anticipating their upcoming summer break, consider creating a goal list of local hikes you can experience together this summer. This is a time where you can not only exercise and take a break from screen time, but you can also teach, learn, spend time together, and tap into new interests. Listen to the sound of birds, explore the creek-beds, count the number of different flowers that you can find—nature provides endless opportunities for children to explore and use their imaginations. Below are 5 family-friendly hikes in Oregon to consider:
Trillium Lake:
Trillium Lake provides stunning views of Mt. Hood on a clear day. There's a relatively flat 2-mile hike that loops around the lake, and switches between trail and wood-planked paths. There are enough spots along the water that you can stop for picnics or take a dip into the water.
Tamolitch Blue Pool:
If you follow the McKenzie River trail for 3.7 miles, not only will you get to view a waterfall and lava rock, but you'll approach the gorgeous, turquoise Tamolitch Pool, also known as Blue Pool. This hike is for beginners and will take you through old growth Douglas fir forests. Additionally, dogs are allowed on the trails, and is heavily trafficked.
Opal Creek
Opal creek will wind you through 500-year-old cedar trees and along the Little North Santiam River, eventually reaching Jawbone Flats, an old, historic town. The trail is 7 miles in total, with a moderate, mostly flat trail, and opportunities to go for a dip in the water if desired.
Mt. Saint Helens Hummocks Trail
Hummocks trail is great for adults and children alike, with a 2.5 mile loop taking you along mostly level, moderate trails. This area is still recovering from the Mt. St. Helen eruption, which allows a unique educational experience and views for children (if you're lucky, you may even catch a glimpse of wildlife, such as elk or waterfowl). Mt. St. Helens National Volcanic Monument isn't far away, where your kids can watch live footage of the volcano's eruption, and panoramic views of Mt. St. Helens today.
Latourell Falls Trail:
Located in the Columbia River Gorge, this 2.5 mile hike is one of the few that remains open after the 2017 fire, and will take you past two waterfalls. While slightly steep at the beginning, the trail eventually levels out, allowing for plenty of places to stop for snacks, explore hollow trees and streams, and potentially the opportunity to stand behind the upper waterfall.
While most of us have and will continue disruptions to our "usual" summer plans, these hikes are available and great solutions to get out of the house, away from phones and televisions, and out into the wilderness.