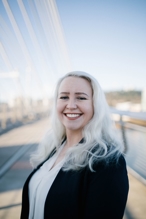 The 2020 list of Oregon Super Lawyers® Rising Stars℠ has been announced, and Pacific Cascade Legal's Associate Attorney, Cambell Boucher, has been selected. Cambell was chosen for her work as a family law attorney in the state of Oregon, and we are thrilled to celebrate this recognition alongside her.
Super Lawyers® uses a patented selection process to rate, review, and recognize legal professionals from all across the country and who practice in all legal fields. The organization looks to award attorneys who stand out for a variety of reasons, including case results, pro bono work, accreditation's, continued legal education, and more. When the selection process is over, no more than 5% of all practicing attorneys can be named a Super Lawyers® member for a given year. No more than 2.5% of all practicing attorneys can be named to Rising Stars℠, and must be either younger than 40 or have less than 10 years of practice experience.
It comes as no surprise to us that Cambell has been recognized for her hard work in this year's Super Lawyers Rising Star nomination process. Cambell is an individual who naturally couples aggressive legal representation with empathy and an innate understanding of the human experience. She finds great purpose in her ability to help clients discover a sense of hope and empowerment as they battle difficult family law matters, and we are proud to work alongside her.
If you would like to know more about Super Lawyers® Rising Stars℠, you can click here to view Pacific Cascade Legal's profile on the organization's official website.