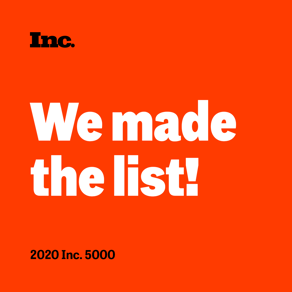 The team at Pacific Cascade Legal is proud to announce that, for the second year in a row, our firm has been picked by Inc. magazine to appear on its list of America's fastest-growing private companies—the "Inc. 5000". We are excited and grateful to be honored among other businesses, such as Microsoft, Timberland, Vizio, Intuit, Chobani, Oracle, and Patagonia, and to be ranked at 4,410 with a 74% growth rate.
The Inc. 5000 was started in 1982 as a way to recognize noteworthy achievements of companies who were making a difference, while celebrating the impressive innovations of entrepreneurs from a wide range of professions and industries. The following must be met to qualify:
Company must have been founded and generating revenue by March 31st, 2016
Must be U.S based, privately held, for profit, and independent.
Minimum revenue required for 2016 is $100,000, and the minimum for 2019 is two million.
The companies who have qualified in 2020 have not only shown stark competition within their own markets, but as a whole have demonstrated incredible growth when compared to previous lists. These companies achieved an admirable three-year growth of 500%!
To view the complete results and company profiles of this year's Inc. 5000, you can do so here: www.inc.com/inc5000. Keep an eye out, because Inc. will be featuring the top 500 companies in their September issue, which will be available August 18th.
What Makes Pacific Cascade Legal Great?
Pacific Cascade Legal works hard to ensure that our clients know how valued they are, and do this through attorney-client relationships that are built on trust, consideration of time and resources, and a mutual understanding of the end goal that our client envisions. We approach these relationships with the recognition that we, just like our clients, are people who value the family unit, and we will advocate for our client's families just as we would advocate for our own. We strongly believe that life events such as marriages, re-marriages, births, adoptions, children growing up, growing older, illnesses, and deaths do not dissolve a family – rather, they provide the opportunity to reconfigure the strengthen family dynamics in a myriad of healthy and positive ways.
We believe in the importance of being available resources for our community at all times, especially amidst life-changing challenges and difficult seasons. As a family law firm, we have walked with many clients through some of the deepest valleys they've faced, and we have seen first-hand how the support from not only a compassionate attorney, but a connected community as a whole, can help to remove the weight of a burdensome and difficult trial that a person may be facing.
For more information about how Pacific Cascade Legal can help you, contact our office at (888) 981-9511">(888) 981-9511 or visit us online today to schedule an appointment.