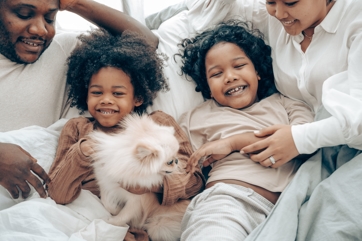 Do you have a child who is struggling this winter? The "grey months" of winter, especially once the excitement for the winter holidays have passed, can already be mentally difficult for kids. With the added social changes many kids are navigating this year due to Covid-19 restrictions, it's important for parents to be in tune with their child's mental well-being. If you think that these factors are compounding and resulting in emotional and mental trails for your child, the following suggestions may help to promote mental health:
Embrace the Winter Months
Spending time outdoors throughout the year is important for mental health—fresh air, natural light, and exercise work together to increase mood, reduce stress and anxiety, and provide a space to relax and disconnect from stressors. Rather than avoid outside activities during the winter, it may be helpful to reframe your perspective and brainstorm ideas with your kid on how you can embrace the winter weather. What does winter allow you to do that other seasons don't? Plan for activities that celebrate the opportunities afforded by the winter months—sledding, skating, hiking to find frozen waterfalls, puddle jumping, making homemade ice cream, or appreciating an outdoor campfire.
Stay in Touch with Extended Family and Friends
As adults, we've probably all experienced the feeling of really not wanting to hop online for a virtual chat, but feeling really glad that we did and filled up afterwards. The same is true with children, which is why it's important to continue encouraging them to stay in touch with their extended family and friends, despite pandemic and computer fatigue. Connecting with loved ones, laughing, and feeling heard and known is positive for everyone—children and adults.
Provide Your Child with a Diary or Journal
Providing your child with a diary to be able to process their feelings via written word can be incredibly therapeutic. Journaling or writing in a diary is a common way for both kids and adults to express what they're feeling in a safe place, as well as to practice creative expression.
Start a Mood Jar
One idea to help spread joy in the house is to create a mood jar for your child. Within the mood jar you can write down favorite memories that make your child laugh, words of affirmation, "coupons" for certain allowances (such as a sleepover with friends, or picking a dessert to be made for them), or an activity that brings them joy. If your child is feeling down and could use a pick-me-up, they can draw a piece of paper from their mood jar to provide a laugh or something to look forward to.
Continue Maintaining Structure and Routine
Even if they fight it, maintaining a consistent routine for your child is good for their mental health, helps to reduce anxiety, and creates reliable structure that offers support within their day-to-day lives. Whether it's sticking to consistent bedtimes, or restrictions on screen time, routine is often something that kids fight against without realizing the value that it provides to their life—as their parent, helping to maintain this structure can be a huge help for their overall mood.
Dream Up Future Plans with Them
Kids, just like adults, can thrive when they know that sunnier days are ahead, and when they have something to look forward to—it can make the current days of social isolation and grey clouds feel more manageable and temporary. What's something that you and your kids can plan for in months to come that is likely to be do-able even with the pandemic in mind? Perhaps it's going on a camping trip in the spring, planning a slumber party with their friends, going on a road trip (near or far) to a place they've been wanting to visit or would be excited to experience. Gear it towards an interest of theirs and have it be something that you can put up on a calendar and count down the days together.
Focus on Gratitude Together
Practicing gratitude is an intentional exercise that can change your child's state of mind and perspective on the world around them. Practicing gratitude is not negating the difficult happenings around you, but choosing to put equal energy into focusing on the positive aspects of your life. Whether it's starting each morning by sharing something you're grateful for, or making a game out of it, how can you and your child create a habit of highlighting the big and small moments in life that are positive? Practicing gratitude not only teaches your child to look for the silver-linings in even the most difficult scenarios, but provides them with reassurance from you, their parent, when they hear you focus more on the good in your world, rather than the bad. Just like any habit in life, practicing gratitude gets easier and becomes more natural the more you do it, so find a way to carve it into your daily routines.
Last but not least, if your child is struggling mentally and could use professional help, it may be beneficial for them to meet with a counselor or therapist who specializes in helping children. If that's the case, our firm has connections with great therapists in the area, and we're happy to help connect you with the right people. If you and your family need additional support, you can call us today at (503) 227-0200 to get connected.