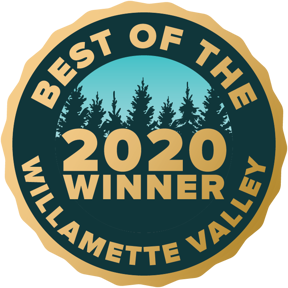 ¡Pacific Cascade Legal se complace en anunciar que la firma fue nominada y galardonada con el premio de "Best Family Law" en el concurso de Best of the Willamette Valley 2020!
Best of the Willamette Valley fue creado por NERUS Strategies LLC, una compañía fundada en el noroeste del Pacífico, con el fin de involucrar a la comunidad y hacer honor a los negocios que trabajan duro para servir a las personas dentro de su región local.
"Estos programas son una excelente manera de demostrar amor por las empresas, personas y lugares que frecuentamos durante el año", explicó el vicepresidente de NERUS Strategies, Neil Potter, en una entrevista con Best of the Willamette Valley.
"No solo puedes apoyar a tus preferidos, sino que también tienes la oportunidad de experimentar, explorar y probar nuevos negocios y restaurantes que quizás aún no hayas conocido", continuó Potter.
El concurso de Best of the Willamette Valley estuvo abierto para todo público para que las personas pudieran votar por sus establecimientos favoritos en todo el condado de Polk y Marion, y estamos encantados de haber ganado en la categoría de "Best Family Law".
Trabajamos arduamente para garantizar que nuestros clientes sepan lo valiosos que son, y lo hacemos a través de relaciones abogado-cliente que se basan en la confianza, la consideración del tiempo y recursos, y una comprensión mutua del objetivo final que nuestro cliente visualiza. Abordamos estas relaciones con el reconocimiento de que nosotros, al igual que nuestros clientes, hemos pasado por juicios de derecho familiar, lo que nos permiten abogar por las familias de nuestros clientes tal como lo haríamos con las de nosotros.
Creemos en la importancia de estar disponibles para nuestra comunidad en todo momento, especialmente en medio de situaciones difíciles y de desafíos que nos cambian la vida. Como bufete de derecho de familia, hemos caminado con muchos clientes a través de algunos de los senderos más oscuros que han enfrentado, y hemos visto de primera mano cómo el apoyo, no solo de un abogado empático, sino de una comunidad entera, puede ayudar a hacer menos pesada la carga de una persona. Por esta razón, hacemos énfasis en proporcionar conexiones que sirvan de referencia a nuestros clientes para que tengan a su alcance sistemas de apoyo en cada etapa del camino, incluso después de que su caso haya terminado.
Estamos encantados y nos sentimos honrados de ser reconocidos como el "Best Family Law" en el concurso de Best of the Willamette Valley de este año. Gracias a todos los que votaron por nosotros y nos dieron su confianza para representarlos a través de sus asuntos de derecho familiar a lo largo de los años. ¡No estaríamos aquí de no ser por nuestra comunidad, y los apreciamos a todos y cada uno de ustedes!