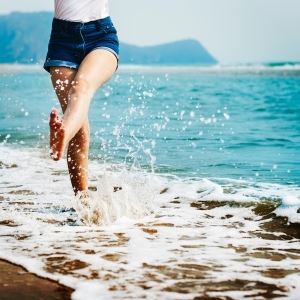 We've all heard of honeymoons, and perhaps more recently the development of baby-moons, but have you heard of a start-anew-moon? If you can get past all of the hyphenations this trendy term requires, you'll find that the start-anew-moon is the latest vacation celebration—however, rather than celebrate the joining of man and wife, or the anticipated arrival of a child, it's a celebration of the finality of a divorce.
While divorce cases are all unique and vary depending on multiple factors, there is one point that most divorcees can probably agree on: it's a season of life that they were happy to get past. Once it's all said and done and the divorce is finalized, getting a crew of close friends together and making time for a vacation seems to be a growing trend for adults.
A start-anew-moon can really be whatever you need it to be: you can sojourn by yourself and pursue a soul-searching adventure in a new environment or culture (Eat, Pray, Love, anyone?). If vacationing alone isn't your cup of tea, many men and women have opted to go on same-gender trips with their closest friends. Having a strong community of friends surrounding you can be therapeutic regardless of location—assemble that support circle in a tropical oasis or a remote cabin, and you've got the makings for a memorable trip.
Stepping away from the comforts of your day-to-day routine and outlook, or in this case, away from the marital comforts of your previous marriage, has a way of offering new perspective that can be healthy. In addition to this, vacations can be revitalizing and relaxing for the downtrodden individual who feels that their divorce proceedings wore them down. Overall, a start-anew-moon can serve as a symbolic break between your old life and your new—a means of retiring from your situation so that you can restore your spirit and return home feeling ready to move forward resolutely.
If you're nearing the end of your divorce and a trip away sounds like the perfect cure for any stress or grief you may be battling, a start-anew-moon may be just what the doctor ordered.