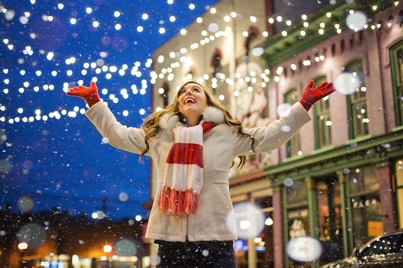 For some families, the cold winter months can keep them cooped up inside until spring. In these situations, it comes as no surprise that by the time it starts to warm up, everyone has cabin fever! Regardless of weather and season, there are always options for fun outside of the house, especially in states such as Oregon and Washington that value the great outdoors so much, and understand that if a rainy day is all it took to cancel an event, they'd be plum out of luck. If you're looking for entertainment in the winter, there are a lot of fun activities during the holiday season that can bring joy to everyone!
Oregon Ballet Theater: Located in Portland, Oregon, this is a wonderful theater that offers beautiful renditions of classics, including the holiday favorite: The Nutcracker. Most performances are full-length pieces and are generally best suited to older children, as young ones can get restless.
The Cinnamon Bear Cruise: A wonderful two-hour cruise that runs for most of December. Enjoy holiday treats including hot chocolate, while a cast of fanciful characters entertain you with storytelling, music and magic. Bonus fun: your child gets a picture with the Cinnamon Bear on his magical throne.
Christmas Revels in SW PDX: Enjoy life size puppets putting on a show during this classic Portland holiday tradition. This year's production, Highland Voyage, follows the story of three fools on a quest in Scotland to return the sun, moon and stars into the sky. You can expect the Horn Dance, a Mummer's Play, and audience sing-alongs to get you involved and in the spirit!
Festival of Lights at the Grotto: This is one of those events that should be part of your holiday traditions! The Festival of Lights at the Grotto is a spectacular event that features 150 indoor music concerts as well as dramatic living history enactments and holiday light displays that include over a half million bulbs. There are carolers, a life-sized nativity scene, and even a master puppeteer who presents a Christmas show!
Christmas Ship Parade: If you've got children that love ships, this is the parade for them! This is an annual (60 years!) Christmas event that features 55 - 60 ships of all sizes bursting with holiday lights and decorations. Each night for two weeks, the owners cruise the Willamette and Columbia Rivers, providing holiday cheer to shoreside onlookers.
Winter Wonderland: Held at the Portland International Raceway, Winter Wonderland has gained fame as the largest holiday light exhibit on the West Coast. It's a huge drive-through exhibit with animated reindeer, elves, and dinosaurs! There are over 250 colorful light set pieces and many fully animated scenes. It is open Thanksgiving Day through Dec. 27th. And you can tune into their special radio station for Christmas music!
Zoolights Festival: No holiday activity list would be complete without Portland's Zoolights! When the animals turn in for the night, the zoo comes to life with over a million dazzling lights and decorations! There's a fun puppet show for the kids, and everyone can have fun on the train with its holiday transformation as it takes you through the zoo to experience all of the splendor.
Holiday Lights: While it's not a "festival", it's always a fun (and free!) activity to drive around as a family to see all of the lights people have decorated their homes with. Some neighborhoods even have competitions!
There are so many ways to have fun as a family during the holiday season. Even non-holiday specific activities like: sledding, skiing, ice skating, snowman-making, etc. are all fun ways to get out of the house and keep cabin fever at bay! We at Pacific Cascade Legal hope you have a fun and safe holiday season.